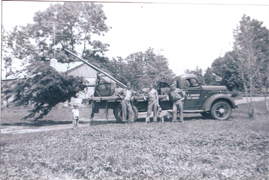 The roots of L.E. Savory Tree & Lawn Service, Inc. extend all the way back to 1951, when Lester E. Savory, Sr. set out to provide professional and knowledgeable tree care for the people of the Toledo, Ohio area. With limited equipment and resources, but unlimited determination, Les began the company that has now evolved into a growing, multi-service corporation. Les's wife, Beulah, supported him in the business, serving as an office manager, until her death in 1988.
Les Savory saw the benefits of continuing education early on. He became a member of the National Arborist Association, now known as the Tree Care Industry Association, and the International Society of Arboriculture, of which this firm still belongs, in 1951. These organizations assisted Les in expanding the business into other directions, including insect and fungus control, fertilization, and vascular injection.
L.E. Savory Tree & Lawn Service, Inc. sprouted into a true family business as Les and Beulah's children grew older. All six of the Savory offspring assisted with the business through the years. Along with Les Savory Sr., our firm is managed by three of the sons: Rich, Bill, and Patrick Savory. After remarrying, Les asked his wife, Ana, to join the office staff.
In 1993, Les, Rich, Bill, and Patrick became ISA Certified Arborists, to better meet the needs of their clients, and to further expand the knowledge of the support staff. Continued education has always been important at L.E. Savory Tree & Lawn Service.
From its meager beginnings, L.E. Savory Tree & Lawn Service has truly grown into a successful full service company. The commitment to quality and honest business practices which were established so long ago by Les Savory Sr. still holds true today.